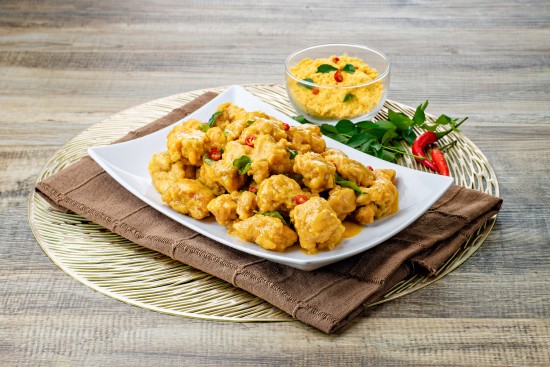 Salted Egg Chicken

40 mins

2 SERVINGS
INGREDIENTS
1 packet Sadia chicken cubes
1 egg, beaten
1 cup tapioca flour
Salt & ground white pepper
Oil
Salted egg yolk sauce
2 tbsp unsalted butter
1 tbsp olive oil
5 chili padi, sliced
A handful of curry leaves
2 tbsp evaporated milk
4 salted egg yolks, steamed & mashed
METHOD
Marinate chicken with egg, salt and pepper.
Dredge chicken cubes in tapioca flour, shake off the excess and transfer onto a clean dry plate.
Deep fry the chicken in batches till golden brown and crispy. Drain and transfer onto paper towels to remove excess oil.
To prepare the salted egg yolk sauce, heat olive oil in a separate pan and melt the butter till the mixture turns foamy.
Pan-fry the chili padi and curry leaves till crispy and fragrant.
Add the salted egg yolks and cook till the mixture becomes bubbly.
Reduce heat and add evaporated milk and a pinch of salt.
Return the fried chicken to the pan and toss till evenly coated.
Dish out the chicken and serve immediately.
Popular Recipes