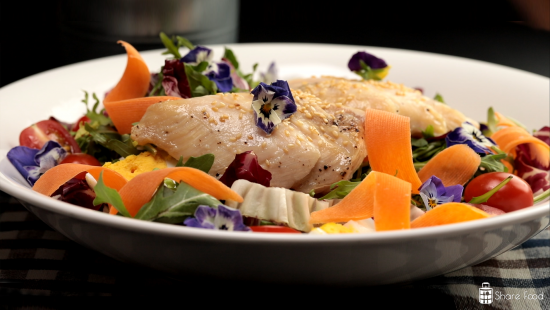 Grilled Pepper Chicken Salad

20 mins

2 SERVINGS
INGREDIENTS
2 pcs of Sadia Pepper Grilled Chicken
2 hard-boiled eggs, wedged
6 cherry tomatoes
Slices of carrot
Choice of salad leaves
olive oil
Miso Vinaigrette
1 ½ tsp white miso
2 tbs white rice vinegar
2 tbs olive oil
1 tbs mirin (optional)
3/4 tsp honey
Pinch of salt & pepper
White sesame seeds, toasted
METHOD
Step 1: Reheat the chicken
- Spread olive oil on both sides of chicken breasts and reheat in oven for 15 minutes at 200°C.
Step 2: Miso vinaigrette
- Combine miso vinaigrette ingredients and whisk together to emulsify, leave covered in refrigerate until ready to use."
Step 3: Assemble the salad
- Remove chicken breasts from oven and slice when slightly cooled.
- Place sliced chicken breast on a bed of salad and serve with miso vinaigrette.
Pepper Grilled Chicken Breast
Popular Recipes