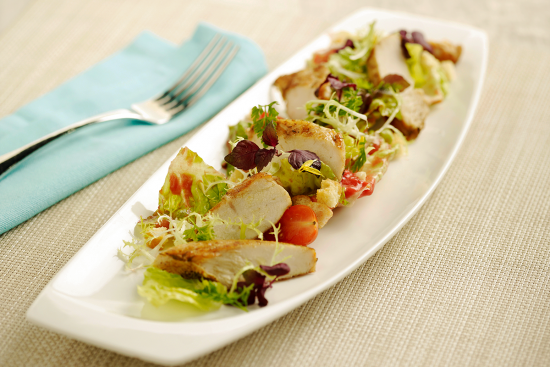 Chicken Salad with Raspberry Dressing

20 mins

5 SERVINGS
INGREDIENTS
Sadia Chicken Half Breast 500gm
Marinade:
Olive Oil 50gm
Cajun Spice 30gm
Fresh Thyme 3stalks
Garlic 30gm
Sea Salt 5gm
Raspberry Dressing:
Fresh Raspberry 250gm
Red Wine Vinegar 50gm
Sugar 80gm
Olive Oil 200gm
Salad:
Romaine Lettuce 500gm
5 Cherry Tomatoes (Garnish)
Croutons 30gm
METHOD
Marinate chicken tenders with cajun spice, garlic, fresh thyme, olive oil & sea salt
Pan sear chicken tenders in olive oil on a non-stick pan over medium heat till cooked.
Slice chicken tenders and set aside.
Blend raspberry, vinegar, sugar and olive oil in a food processor till thicken
Place salad in a large bowl, add dressing and sliced chicken tenders
Garnish with cherry tomatoes & croutons.
One by One Chicken Breast (Skinless)
Popular Recipes