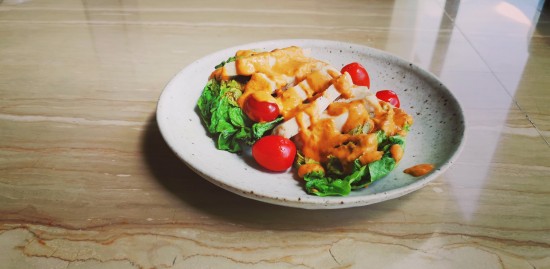 Grilled Laksa Salad with Pepper Grilled Chicken Breast

30 min

2 SERVINGS
INGREDIENTS
(A) Ingredients for Laksa Rempah
20 shallots, peeled
2 tablespoons of chilli powder
1 teaspoon of belachan, roasted
2 tablespoons of hae bee, soaked in water
6 candlenuts, soaked in water
10g of turmeric, peeled and sliced
2 teaspoons of coriander powder
60ml of fish sauce
(B) Ingredients for Coconut Laksa Lime dressing
1 tbs of laksa rempah (A)
1 tbs of lime juice
3 tbs of UHT Coconut cream
1 tsp of salt
(C) Ingredients for Cherry Tomato Confit
6 cherry tomatoes
3 tbs of olive oil
1 pinch of sea salt (D) Ingredients for Salad
1 packet of Sadia grilled pepper chicken breast
1 Baby cos lettuce
5-6 cherry tomatoes
1 cucumber, sliced
Fried shallots (optional)
Laksa rempah (optional)
METHOD
Blend all ingredients in (A) in food processor until a smooth paste. Quick Tip: You can use the remaining laksa rempah for other recipes. Alternatively, use premix laksa sauce to shorten prep time.
Mix all ingredients in (B) until well incorporated.
Mix all ingredients in (C) and place them in a baking tray and into a preheated oven (150 degrees celsius) for 20 minutes.
Heat up the Sadia grilled pepper chicken breast per reheat instructions.
Slice the baby cos lettuce into half lengthwise. Place on to a hot pan (no oil), cut side down, grill for 5 minutes until the cut sides are brown.
Slice the cooked chicken breast.
Assemble the salad(D) on a plate with the grilled lettuce, cherry tomato confit(C) and chicken breast.
Drizzle the Coconut Laksa Lime dressing(B) on top.
Pepper Grilled Chicken Breast
Popular Recipes