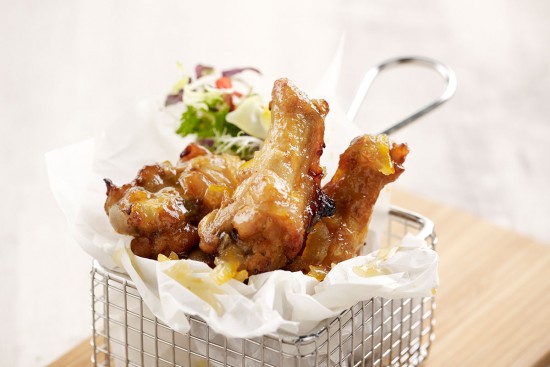 Sticky Orange Drumette

NOT AVAILABLE

3 SERVINGS
INGREDIENTS
Chicken Drumette
Salt 5gm
Ground Black Pepper 2gm
Orange Marmalade 100gm
Soy Sauce 15gm
Apple Cider 15gm
Coriander – shredded 2gm
Sesame Seed – toasted 2gm
Coriander Leaves, for garnish 2 springs
METHOD
Preheat oven to 200°C. Line a baking tray with nonstick aluminum foil.
Rinse and pat dry the chicken. Sprinkle with salt and pepper all over the chicken.
Place the chicken in a large mixing bowl and add all ingredients together and marinate for 2 hrs.
Arrange them on the prepared baking tray and bake at 200°C for 10 mins.
Sprinkle coriander leaves and sesame seed on drumettes.
Ready to serve.
One by One Chicken Drumette
Popular Recipes