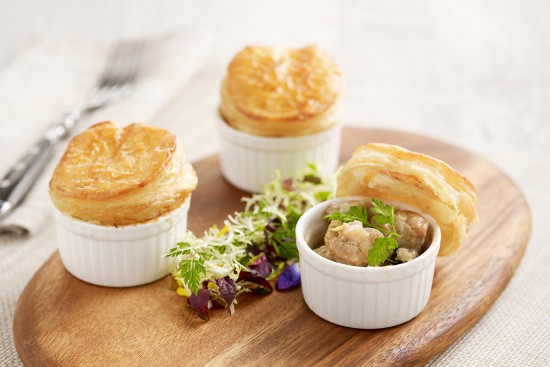 Chicken Mushroom Pie

NOT AVAILABLE

5 SERVINGS
INGREDIENTS
Frozen Chicken Boneless Leg Meat (cut into cubes) 1000gm
Marinade:
Onions, diced 150gm
Fresh Shiitake Mushroom, diced 200gm
Potato, diced 200gm
White Wine 50gm
Cream 200gm
Water 300gm
Salt & Pepper to taste
Puff Pastry (ready frozen product) – 2 sheets
METHOD
Sautee onions, mushrooms, potato & chicken cube for 2 minutes with butter over med high heat.
Deglaze with white wine.
Add in cream, water, salt & pepper.
Let simmer for 10 minutess
Place chicken cream filling in small ramekins.
Cover with puff pastry
Bake in oven at 170°C for 15 minutes.
Chicken Boneless Leg
Popular Recipes