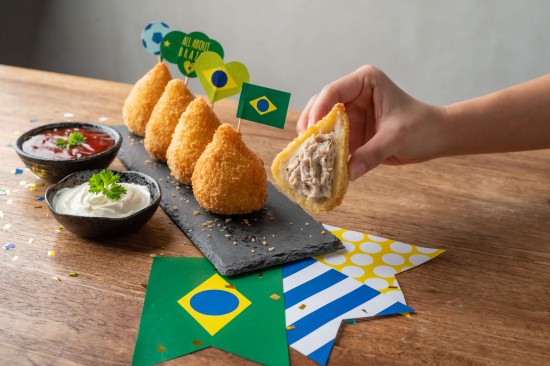 Coxinha

1.5 h

4 SERVINGS
INGREDIENTS
Dough
40 g chicken stock powder
875 ml water
350 ml milk
125 g butter
2 g black pepper
7 g salt
550 g wheat flour
Filling
1 packet Sadia chicken cubes
4 garlic cloves, smashed
40 g onions, diced
175 g cream cheese
5 g salt
2 g black pepper
Breading
Panko
Wheat flour
Splash of milk
1 egg
Vegetable Oil (fry)
METHOD
In a tall pan, mix ingredients of dough except for flour and heat to a light simmer.
Add flour to mixture and stir well until it forms a dough.
Remove dough from pan and knead till it's smooth and soft. Wrap with cling wrap and let it rest for 1 hour in the fridge.
While dough is resting, prepare the filling. Boil chicken cubes in hot water till cooked. Shred the chicken.
Add some butter and oil in pan, add onions, smashed garlic and cook until light golden. Add shredded chicken.
Add shredded chicken, cream cheese, salt, and pepper. Mix well.
Remove prepared dough from fridge. Place some butter in your hands and pinch a piece of dough, about the size of a large egg. Roll into a ball.
Flatten the dough and spoon filling into center. Wrap dough around filling and pinch the top to get a teardrop shape. Make sure there aren't any holes.
Coat dough in milk and egg mixture then panko and wheat flour.
Heat a pot of oil to 180˚C and fry Coxinhas until crispy and golden.
Other Recipes
2 hr

8 SERVINGS

35 mins

2 SERVINGS
Popular Recipes