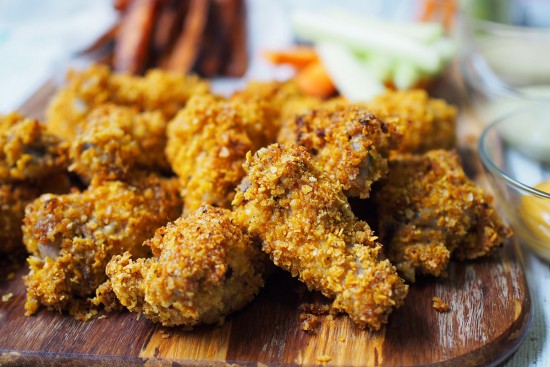 Cornflake Chicken with 3 Sauces

30 mins

4 SERVINGS
INGREDIENTS
1kg Chicken Drumette
1½ teaspoon Garlic Powder
1½ teaspoon Onion Powder
½ teaspoon Paprika
½ teaspoon Dried Parsley
1 teaspoon Sea Salt
½ teaspoon Black Pepper
2 cups Crushed Cornflakes
2 tablespoon Butter
1 large Egg
3 tablespoon Milk
Honey Mustard Sauce
4 tablespoon Mayonnaise
1 tablespoon Honey
1 tablespoon Dijon Mustard
1 teaspoon Lemon juice
Curry Mayo
4 tablespoon Mayonnaise
2 teaspoon Curry Powder
½ teaspoon Lemon Juice
Wasabi Mayo
4 tablespoon Mayonnaise
2 teaspoon Wasabi Paste
Serving Suggestion
5-6 stalks Celery, cut into finger size
1 large Carrot, cut into finger size
METHOD
Preheat oven to 200C.
Rinse and pat the chicken dry.
Place chicken in large mixing bowl.
In a small bowl, mix garlic power, onion, powder, black pepper, and salt.
Sprinkle half of the spice mix over chicken and toss.
Process cornflakes in food processor until fine; alternatively, crush it in a ziplock bag with a rolling pin.
In a shallow plate, add cornflake, spice mix, paprika, and parsley.
In another plate, beat egg and milk together until frothy.
Take the chicken and dip it in the egg mixture, allowing excess mixture to drip back onto plate.
Coat the chicken with cornflake mixture.
Lay it on a lightly greased baking tray, and bake for 30 minutes at 200C.
In the meantime, prepare the sauces by mixing ingredients for each sauce in a small bowl.
When chicken is done, serve immediately with sauces, celery sticks, and carrot sticks.
One by One Chicken Drumette
Other Recipes
30 mins

3 SERVINGS

NOT AVAILABLE

4 SERVINGS
Popular Recipes