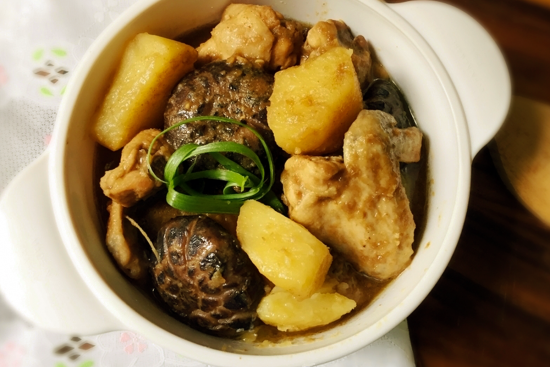 Chicken, Potato and Mushroom Stew

45 mins

4 SERVINGS
INGREDIENTS
500g Sadia 3 Joint wings
2 large potatoes cut into pieces
8 dried shitake mushrooms, soaked till soft and stems removed
3 tablespoons preserved soy bean paste (tau cheo)
12 shallot cloves
6 garlic cloves
1 stick cinnamon
A few drops of dark soy sauce for colour
Sugar to taste (the original recipe called for gula melaka)
450ml water
2 tablespoons oil
METHOD
Peel the shallots and garlic and pound into a paste. You can also use a food processor/blender for this and blend mixture till about 70% smooth.
Heat up some oil and fry the paste for 3-4 minutes till fragrant. Add the chicken and tau cheo and lightly brown the chicken pieces. Follow with the cinnamon, mushrooms, potatoes and water.
Bring to boil and turn down heat. Drizzle in the dark soy sauce. Simmer for 45 minutes till ingredients are tender. Add sugar to taste, stir well and serve hot with rice.
Chicken 3 Joint Wing
Popular Recipes