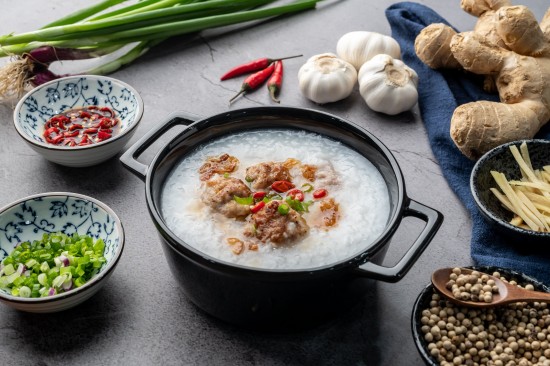 Chicken Meat Ball Congee

25 mins

2 SERVINGS
INGREDIENTS
Meat ball:
1 packet Sadia Minced Chicken
4 cloves minced garlic
1 tbsp soysauce
1 tbsp oyster sauce
1/2 tbsp sugar
1 dash of white pepper
1 tbsp sesame oil

Congee:
2 cups chicken stock
1 tbsp fish sauce
1 julienned ginger
2 dashes white pepper
2 stalks sliced spring onion
METHOD
Add 2 cups of cooked rice and 2 cups of chicken stock to the pot and cook at low heat for 20min.
Meanwhile mix all ingredients for meatball. Use spoon to form meatball and add to the pot to cook for 3min.
Add julienned ginger and fish sauce. Serve with spring onion and white pepper.
Minced Chicken
Popular Recipes